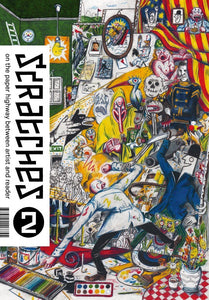 SOLD OUT Scratches 2, on the paper highway between artist and reader. Redigert av Joost Swarte. Tegneserieantologi
Regular price
300,00 kr
0,00 kr
Tax included.
En ny internasjonal tegneserieantologi i RAW-tradisjonen.
På 1980-tallet drømte Art Spiegelman og Françoise Mouly om å samle det beste av avant garde-tegneserier i USA og Europa. Resultatet ble vilt  innflytelsesrike  RAW "graphix magazine". Nå har en av de faste bidragsyterne til  RAW, tegneserielegenden Joost Swarte laget sin egen antologi med samme mandat.
"It's been a dream of mine to show work by unconventional comics artists from the Netherlands and Flanders, as well as big names from the international world of graphic novels." Joost Swarte
Her er listen over kunstnerne i Scratches 2:
François Aryles, Blexbolex, Charles Burns, Aline en Robert Crumb, Brecht Evens, Theo de Fetter, Jochen Gerner, Charles Guthrie, Bendik Kaltenborn, Sam Ki, Erik Kriek, Helge Reuma, Tobias Schalken, Solko Schalm, Joost Swarte, Tiger Tateishi, Types, Kristina Tzekova, Brecht Vandenbroucke, Lukas Verstraete, Ludwig Volbeda, Henning Wagenbreth, Wasco
Cover av Lukas Verstraeten  (Belgia),  essays og artikler av Matthijs van Boxsel, Henning Wagenbreth, Warren Bernard og Peter Maresca. Bl. a. en artikkel om Frank King. 
Format 23x33 cm
114 sider
Trådsydd i rygg
med flapper, og medfølgende plakat
VI HAR NOEN FÅ EKS IGJEN AV "SCRATCHES 1"!
---
Share this Product